Produce – Fresh is always best in produce, and the secret to better produce is getting it from the field to your refrigerator in as little time as possible. That's why we buy from the largest food terminal in Canada with the help of our produce expert, Sal Maraca. Sal is at the terminal every day finding the best quality foods at the best prices for our customers. If Sal finds a great deal, we pass it on to you. Keep an eye out for our Manager's Features, which are deals so fresh they didn't make the weekly flyer.
Fast and Fresh – These days we are always on the run, so at Sharpe's we are focused on offering great meal solutions that are made fresh every day. Try our Berry Bowls, Mixed Melons Pineapple Pieces, Garden, Greek and Caesar salads for healthy, affordable meal choices.
Our meat department is saving you time every day with our new oven ready meals.  Made from fresh ingredients found throughout the store, they are a healthy, delicious and easy meal solution. Try our seasoned beef, Asparagus and Swiss Cheese Stuffed Pork Chops, and marinated chicken. All products are ready for the oven, simply transfer to a baking dish and follow the cooking instructions on the package.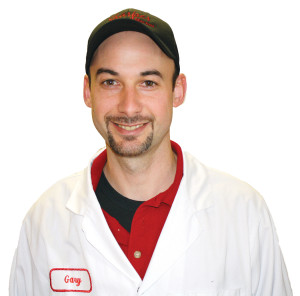 Bakery – Nothing makes your mouth water more that the smell of freshly baked bread. Our bake shop has over 20 varieties of bread and buns for everything from sandwiches to appetizers. Looking for the perfect dinner roll? Our Pan Rolls have been a secret family recipe for almost 50 years and are sure to please everyone!
Cakes for any occasion – The perfect ending to any special meal is a Sharpe's cake. Choose a chocolate or vanilla slab cake with a variety of frosting and filling options, or select a supreme cake like Black Forrest or Carrot cake. Personalize any cake with a special message for no additional charge.
Need an extra special cake? Bring in a photo of the birthday boy or girl, the couple celebrating a special anniversary, or the bride and groom to be celebrating their engagement and have the photo created in icing on a cake.
We carry the largest selection of deli meats, cheese and salads with the largest hot deli in the area. From large corporate events to intimate gatherings you can find everything you need for a great meal at Sharpe's. Few Campbellfordians entertain without our scalloped potatoes, and our famous baked beans and fruit, vegetable and sandwich trays are perfect for any occasion. Try our hot deli meal deals for a restaurant style meal at a fraction of the cost.
Whether you are looking for a bouquet for that special someone, centrepieces for a shower or party, or a potted plant to brighten any room of the house, Sharpe's can meet all your floral needs. Need advice? Our floral experts, can help you find just what you are looking for!