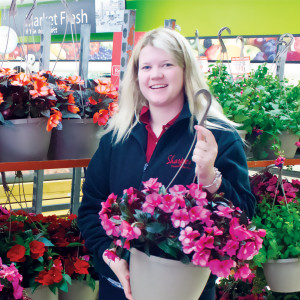 Sharpe's Food Market is an independent, family owned & operated grocery store in Campbellford, Ontario. We have been dedicated to quality, selection & price and focused on making our customers' shopping experience better since 1963. We strive to offer the freshest hand picked produce, quality cuts of meat, a wide selection of deli fresh meats & cheeses, fresh baked breads and sweet treats, and of course, everyday essentials at competitive prices.
At Sharpe's, it's not just what's on the shelves. The secret to over fifty successful years in the grocery business is our amazing staff. We want you to join three generations of Sharpe's and become the next member of the Sharpe's Food Market family!
Your can pint out our  application form and bring it into the Sharpe's with your resume or fill out the application form and submit it with your resume online.
Thinking about a part-time job after school? Working during the summer? Looking to start your career? Do you like learning new things and helping others? If the answer is, "yes" then Sharpe's Food Market may be the place for you. We know that students have a special enthusiasm for learning, earning and building skills that could serve them well in the future. We make sure you have the training and hands-on coaching you need to make it work for you.
Sharpe's Employee Documents
Produce Clerk.
Sharpe's Produce Department has two positions available immediately. We are looking for a mature adult, preferably with experience in produce, though not required, as well as a part-time student. Our ideal candidate is self-motivated, able to work independently or as part of a team.
Please complete our employee application form online or pick one up next time you're in shopping at our customer service desk. Return your completed application and a resume to the customer service desk.
http://sharpesfoodmarket.ca/…/…/Sharpes_ApplicationForm1.pdf